Guilmartin, DiPiro & Sokolowski, LLC is committed to providing our clients with efficient and personal service, as well as relevant and reliable information. With innovative solutions that keep pace with changing needs, we help clients manage financial priorities, make the most of new opportunities and maximize growth potential.
Our goal is to help all clients to plant strong roots and continue to grow in today's uncertain environment. Our team is large enough to cover a wide range of accounting and tax specialties yet small enough to ensure that you receive personalized service.
Our expertise includes general Tax and Accounting Services for individuals and businesses, as well as specialized professional services for Nonprofit Organizations and Law Firms.
---
2019 Year-End Tax Planning Information
As an independent member of BDO Alliance USA, we have prepared two tax planning guides to share important information with our clients.
---
Important Scam Warning for Connecticut LLCs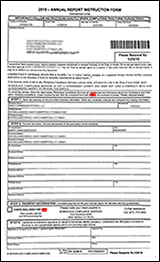 Limited Liability Companies (LLCs) are receiving a form requiring payment of $110 to $130 "annual report fee" relative to a "2018 - Annual Report Instruction Form (Connecticut LLCs)" from Workplace Compliance Services, 1022 Boulevard #243, West Hartford, CT 06110. Businesses are receiving the form in the regular U.S. postal service in hard copy with a return envelope.
This is a scam and no payments should be made to Workplace Compliance Services.
The hard-copy form Workplace Compliance Services sends to LLCs looks deceivingly like a real state tax form, so it is easy to understand how people could be fooled by it.
The Department of Revenue Services is aware of the issue, as is the Secretary of the State (SOTS) and the Attorney General.
---
DRS Guidance Alert
Sales and Use Tax Legislation Effective December 1, 2018
As a result of new sales and use tax legislation enacted by Public Acts 2018, No. 18-152, §§ 25, marketplace facilitators are required to collect and remit sales tax on behalf of their marketplace sellers. This new requirement became effective December 1, 2018.
The CTDRS released guidance to help navigate this new legislation - read the FAQs.
---
Important Tax News
Guidance on 2018 Estimated Payments for the Newly Enacted Pass-Through Entity Tax (pdf)
Introduction: On May 31, 2018, Governor Malloy signed Public Act 18-49, which fundamentally changes how Connecticut taxes income earned by partnerships and S corporations, including limited liability companies treated as partnerships and S corporations for federal income tax purposes (referred to collectively as "pass-through entities"). This change is applicable to taxable years beginning on or after January 1, 2018. The legislation does not impact the taxation of publicly-traded partnerships, sole proprietorships, or single-member limited liability companies that are disregarded entities... [Read More]
Guidance Regarding the Calculation of the Pass-Through Entity Tax (pdf)
This preliminary guidance is intended to assist taxpayers in calculating their Pass-Through Entity Tax ("PE Tax") for purposes of making estimated payments. This guidance may be updated as needed to answer additional questions... [Read More]
Information for Non-profits
Tax and Financial Planning News for Nonprofit Organizations (pdf)
As a member of BDO Alliance USA, we are pleased to share important information about financial matters with our not-for-profit clients. Spring 2018 newsletter. [Read More]
Contact Us
Guilmartin, DiPiro & Sokolowski, LLC
505 Main Street, Middletown, CT 06457