Important Scam Warning for Connecticut LLCs
---
Notice to Connecticut Residents - January 2019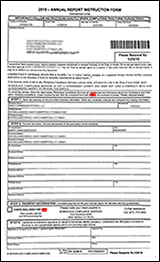 Limited Liability Companies (LLCs) are receiving a form requiring payment of $110 to $130 "annual report fee" relative to a "2018 - Annual Report Instruction Form (Connecticut LLCs)" from Workplace Compliance Services, 1022 Boulevard #243, West Hartford, CT 06110. Businesses are receiving the form in the regular U.S. postal service in hard copy with a return envelope.
This is a scam and no payments should be made to Workplace Compliance Services.
The hard-copy form Workplace Compliance Services sends to LLCs looks deceivingly like a real state tax form, so it is easy to understand how people could be fooled by it.
The Department of Revenue Services is aware of the issue, as is the Secretary of the State (SOTS) and the Attorney General.