GDS Names Mike Kovaleski as a New Partner
Press Release
Middletown, Conn., May 25, 2017 – Guilmartin, DiPiro & Sokolowski, LLC (GDS), a certified public accounting firm, is pleased to announce the promotion of Michael Kovaleski, CPA, as a new partner at the Middletown firm.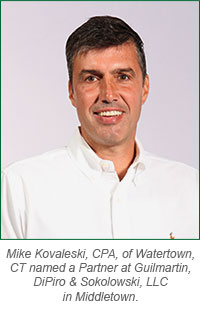 Mr. Kovaleski is an accomplished financial and tax accountant with more than 27 years of experience serving a variety of nonprofit, business and individual tax clients. Previously, he served as Director at GDS with expertise in the preparation of Cost Reports for the Departments of Developmental Services and Social Services (DSS) as well as audits of group homes. In his role as Partner, Mr. Kovaleski will continue to focus on audits of nonprofit entities and tax compliance.
"We are delighted to admit Michael as a Partner in the firm," says GDS Partner Mike DiPiro. "Mike has been with us for over 20 years and has been an integral part of our long-term success. He is a very important asset to us, and to all the clients he has served for many years. We look forward to a long and enjoyable partnership with Mike."
"I'm very proud to become a partner in such a great firm that has become a second family to me. I enjoy working with my clients and am thankful for the many friendships that have developed throughout the years," said Mr. Kovaleski.
Mr. Kovaleski is a member of the Connecticut Society of Certified Public Accountants (CTCPA). He is a graduate of Central Connecticut State University and an active member of the Rotary Club of Middletown. Mike and his wife Stacey reside in Watertown with their three children; Michael, Alyssa and Stephen.
About Guilmartin, DiPiro & Sokolowski, LLC
Founded in 1972, GDS is a full-service public accounting firm with a staff of 25 professionals. GDS is dedicated to serving the needs of individuals, privately-owned businesses, professional practices and nonprofit entities throughout Connecticut. The firm offers a wide range of accounting and tax specialties from general tax and accounting to audits and financial statements to litigation support. For more information, visit www.gdscpas.com or call 860.347.5689.
###
CONTACT
Lisa Delgado
860.347.5689
lisa@gdscpas.com